When your campaign is targeting a variety of audiences, including minority populations, it's not enough to use a general market strategy – you must pivot your strategy to successfully reach specific demographics.
Because of The Hannon Group's expertise in multi-cultural marketing, we are frequently asked to tailor strategies to reach minority audiences, including African Americans, Latinos, and Native Americans. One example is our firm's support for the State of Maryland's Maryland Health Connection (MHC) enrollment campaign. The campaign was led by award-winning PR agency GMMB and targeted Maryland residents who were uninsured and hard-to-reach. The Hannon Group was specially selected by GMMB to conduct outreach to the African American community to create awareness of MHC and encourage enrollment in an insurance plan by the January 31 deadline.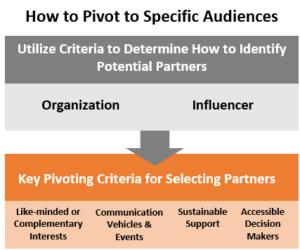 In pivoting the general market strategy, The Hannon Group identified appropriate partners and tactics, and developed messaging and images that would resonate with Maryland's African American community. The goal was to maximize the distribution of campaign messages, content, and collateral materials using strategies that would attract, compel, build trust, garner buy-in, and encourage action.
Strategy 1: Pivot Digital/Creative One of our first steps was to take global objectives and messages and create content and materials that would appeal to African Americans in Maryland. We wanted to make it as easy as possible for partners to engage in the campaign by providing them with creative work that they could plug into their existing communication channels. This included social media content, recommended hashtags and handles, as well as promotional materials.Strategy 2: Identify and Leverage Partner Networks While working on digital/creative development, we also began to identify partners, including organizations and influencers. Using four criteria, we were able to determine where the target audience "lived, worked, played, and prayed". Key pivoting criteria for selecting partners were the following:
Like-minded or complementary interests
Existing communication vehicles or events
Ability to provide sustainable support
Accessible decision makers
Based on these criteria, we initially selected five partner types – Churches, Historically Black Colleges and Universities (HBCUs), Civil Rights Organizations, Black Sororities, and Digital Influencers. We leveraged their communications channels as a central component of our strategy and implemented the following activities:
HBCU Outreach – The Hannon Group partnered with four HBCUs on this campaign – Coppin State, Bowie State, Morgan State, and the University of Maryland, Eastern Shore. We worked with the universities to incorporate information into the exit process for graduating seniors; use health and career center communications channels; and use student services communications, including on campus media.
Grassroots Outreach – We worked with the National Urban League and NAACP to engage African American men and women in their 20's and 30's who were serving in leadership roles. Our team collaborated with these organizations to determine the best methods for reaching young adults through chapter events and activities.
Sororities and Healthy Living Groups Outreach – We engaged African American women through partnerships with three sororities (Sigma Gamma Rho, Alpha Kappa Alpha, and Delta Sigma Theta), and two girls' athletic clubs (Girls Run and Girltrek). We asked chapters to post MHC messaging and links on their websites, social media platforms, newsletters, and blogs; incorporate MHC into their trainings and discussions on healthy living; and host or participate in MHC events.
Influencer/Blogger Outreach – The Hannon Group partnered with Meredith Hurston, the author of the Empowered Mocha Patient blog, as well as Micheline Bowman from Fox 5 News, who organizes a regular event called "Meet me on Mondays". These influencers led an online campaign to encourage people to enroll in a health insurance program to protect themselves and their families. The team hosted a Periscope with Meredith and one of the MHC navigators and enlisted other Maryland bloggers to promote the interview on their blogs and social media platforms. Micheline hosted a "Meet Me on Mondays" networking event focused on MHC.
Media Relations – We engaged other types of influencers to conduct media outreach. These included Senator Elijah Cummings and the NAACP, who endorsed the importance of health coverage for Maryland residents by participating in a press conference to kick off the MHC enrollment period.
Super Health Sunday – Because faith organizations have an interest in the wellness of their congregants, The Hannon Group organized a special statewide event on a single Sunday at 16 African American churches, including six "mega" churches. During the event, these churches provided messages from the pulpit on the importance of health and health insurance. They also hosted meet and greets with MHC navigators and members of each congregation and incorporated ongoing education into church health ministries. In addition, The Hannon Group placed ads in church newsletters promoting Super Health Sunday.
Results: The Hannon Group campaign successfully leveraged partnerships with trusted community leaders and organizations to achieve the desired milestones. Partners distributed collateral materials and promoted key messages through websites, social media, email listservs, and special events. The Super Health Sunday event reached 41,500 in-person attendees and 21,000 more people were reached through live streams, while social media posts for the Periscope and Meet Me Monday event had a combined 323,500 impressions. Through these activities, Maryland achieved one of the fastest growth rates of any state in the country for 2016 enrollment compared to 2015, increasing by 33%, and African American enrollment was up 37%, indicating that the campaign and pivot had been extremely successful.